BOARD LAMINATION
Founded in 1983, our lamination division has over 30 years' experience in the manufacturing of a diverse range of products.
In 2002 we used our experience to design and build a bespoke laminator which we have continued to invest in and upgrade to the latest technological and performance requirements. More recently we carried out a joint KTP program with Liverpool University and a two year process engineering upgrade.
Our purpose built machine can combine up to 5 reels of carton board or paper to produce laminated boards that are rigid, stable and flat. We can produce a maximum sheet size of 1600x2500mm in thicknesses from 400 to 4,000 micron, as well as producing smaller sizes using our onsite guillotining services.
The products that we make cover a wide variety of industries and applications from unlined and white lined chip board for rigid boxes to two-sided white display board for point-of-sale advertising and luxury boxes such as whisky and champagne boxes.
DISPLAY BOARDS
We are the leading UK manufacturer of display board for high quality printing. Our point-of-sale (POS) applications are visible in retailers throughout the country promoting goods, special offers and sales.
All our display boards are produced with materials which are environmentally friendly. Coming from a sustainable source, compliant with the EU timber regulation 995/2010, our range of display boards can be manufactured using FSC/PEFC accredited or 100% recycled material.
Display board is produced by laminating white lined boards back to back. To achieve greater thickness, unlined boards are 'sandwiched' between the two liners to satisfy applications requiring extra strength.
Flatness and stability is a pre-requisite for display board, which we achieve through the combination of the latest technology, a unique laminator, quality raw materials and the expertise of our operators and management team.
LIBRA DISPLAY BOARD
The leading UK solid display board available through Antalis Paper Merchants. Libra is a high white display board available in a range of thickness from 750mic to 2500mic and is constructed from two FBB virgin fibre liners with a grey board middle for thickness over 750mic.
Libra's excellent graphical reproduction using both screen and digital makes it ideal for all Point of Sale (POS) requirements, from hanging communication to show cards and dump bins.
Virgo Display Board
A quality cream centred display board combining stiffness and quality with excellent graphical reproduction. The cream centre provides an alternative to the traditional grey centred board.
Litho Display Board
A cream centred display board particularly suitable for litho printing as well as screen and digital. It is fully recyclable and available with FSC accreditation.
2 sided recycled display board
Made with white lined kraft board, this is a fully recycled display board providing high tear resistance and strength and is suitable for litho, screen and digital applications. It is also available with FSC accreditation.
Deva Duo
A 640mic double sided folding board suitable for displays, cartons and boxes. Both sides of our Deva Duo are suitable for high quality printing in litho, screen, and digital.
Bespoke Grades
Please contact us for bespoke grades made to your requirements and specification.
LUXURY BOXES
We specialise in combining the highest print quality boards from the world's leading mill to create bespoke two-sided rigid boards, unavailable direct from the mill, which allow for challenging print and foil applications to be applied to meet the demands of the luxury goods market.
Whisky and Champagne boxes are two markets where these products meet the demanding requirements, providing a luxury feel box both externally and internally.
The speed achieved on our machine means that for runs of five tonnes and up, we achieve greater economies of scale for our printing partners than using their own in house sheet to sheet laminator.
These grades are run bespoke to the brand managers or packaging designer's specification.
For further information, contact our lamination team who will be happy to discuss any specific requirements.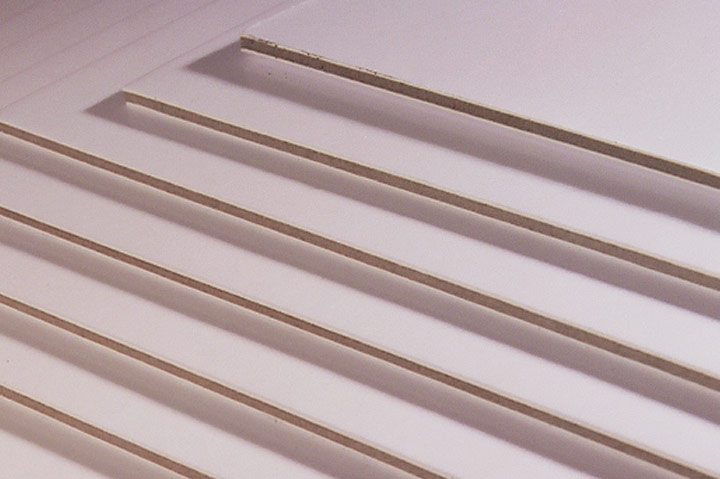 RIGID BOXES
We combine substrates of paperboard, grey board, aluminium foil, polyethylene coated papers and plastic films to produce the exact product characteristics required by the customer.
Our laminated combination of white board, coloured paper and unlined grey board products are ideal for rigid boxes, protective packaging, POS, ring binders and files, slip cases, wallets, bookbinding, games boards and jigsaws, picture mounting and backing board.
The products are also suitable for high frequency welding, paper over board lamination as well as furniture manufacturer and bedding applications.
OTHER LAMINATED PRODUCT APPLICATIONS
We manufacture many different combinations of paper and board. These applications include:
Mount boards for picture framing.
Embossed paper and board for arts & craft.
Protective layer or panel boards for the electronic industry.
Large format board for furniture and bedding manufacturers with round cornering facilities.
Foil/film & PE coated boards for cake boards and food carriers.
CAN WE HELP YOU WITH A SPECIFIC REQUIREMENT?